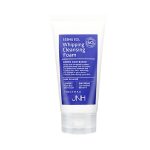 JNH Sseng Eol Whipping Cleansing Foam 150ml
Sale!
JNH Sseng Eol Whipping Cleansing Foam 150ml
-11%
8 in stock
WHY IS IT SPECIAL

Sseng EOL Whipping Foam Cleanser is a fine bubble foam cleanser that cleans your skin without leaving any pore-clogging residue.
HOW TO USE IT

Use it in the morning and evening. Wet your face and hand, then scoop approximately 23 cm of cleaning foam into your palm, add a little water at a time to mix up a thick lather, whip in some air, and gently cleanse the face with your full palms, cupping the face with a rich lather. Rinse with lukewarm water thoroughly.
SHIPPING INFORMATION

All orders are processed within 1-2 business days.
Once your order has been shipped, you will receive a confirmation email with a tracking number.
Please note that we are not responsible for any delays in shipping due to unforeseen circumstances (e.g. natural disasters, holidays, etc.).
If you have any questions about the status of your order, please contact us at [email protected]
Thank you for choosing our website for your shopping needs!